Post by rexton on Jun 15, 2020 18:30:21 GMT
This is a unique blog to Audio Addicts forum. The idea behind this blog is to develop a cheap as chips Chinese system which will hopefully evolve and showcase the odd bit bought from eBay. No doubt there will be cheaper components available but this is all about fun and seeing what we can get out of these ebay wonders. The main emphasis on this system and blog is to spend as little as possible in upgrading and modding the components. I will from time to time scavenge bits from my spares box in the garage and wherever possible swap or recycle things which can be used within the system. View this blog as a fun, skinflints, guide to building a decent cheapy system!

My first component is the venerable Little Bear P-51 valve pre-amp which uses x2 6J1 valves. It cost a grand total of £16 delivered. This little pre-amp is brilliant for introducing audio geeks into the fine old art of tube rolling.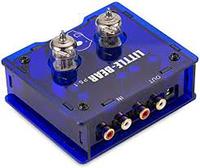 You can mess around with power supplies, batteries and linear power supplies. I own all these PSU's so this should be fun when trialling them on the components in the system. The P51 takes 12V's this is quite useful it's very easy to go to cash converters and offer them a couple of quid for discarded laptop PSU's

You'll find many 6J1 variants doing the rounds on ebay, you can even go to Watford valves and find a whole section dedicated to selling upgrade 6J1 and variants. I initially decided to but x2 Mullard M8100 from Watford Valves but this would have cost me nearly £28. So, being a tight git I scoured eBay and managed to find two delivered for £18, a £10 saving.
. So far we've spent £34 on a preamp a pair of premium military grade valves.
My next component is another component that's no stranger to this forum, the HIFI Class 2.0 Stereo Audio Digital Amplifier TPA3116 Advanced 2×50W Breeze Amp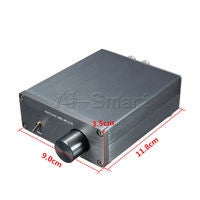 I'd seen a thread about this on the forum and decided to pull the trigger. Originally priced at £20.60 + £1.19 postage. My offer was accepted at £18 + postage, so £19.19. A saving of £2.60. See I told you this was going to be a tight arse system.
. You can buy these amps cheaper but I liked the case, so probably I waste of cash. There are plenty of youtube vids on this amp and generally it can be run on anything from 9 to 24V, distortion does increase with higher voltages, so again it's looks like we are going to have some fun with playing around with PSU's. I've now got a 4 week wait for the TPA3116 but that's ok as it gives me time to hunt around office desks for old laptop PSU's and my garage for spares to cannibalise.
Total spend so far :-
Mullard M8100 valves x2
£18
Breeze Audio TPA3116
£19.19